Martial Arts Combat Sports
August, 2001
Eliminate the Errors in Your Mechanics to Generate Power, Precision and Speed in Your Kicks
By Jasmine Cho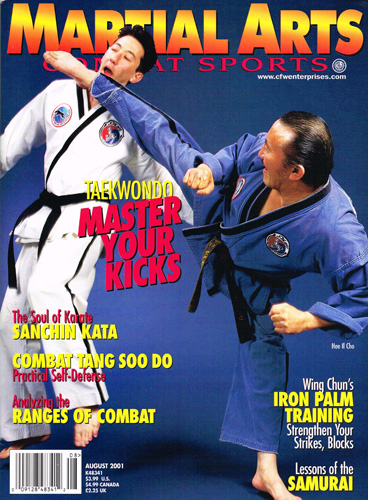 Through nearly 50 arduous years of extensive martial arts training, Hee Il Cho has earned his title as one of the most respected and dynamic martial artists of his time. Cho, president and founder of the Action International Martial Arts Association (AIMAA), is well known throughout the world for his innovative perspective on the traditional martial arts community. His philosophy of inter-twining effective aspects of all martial arts to harmonize the most complete art possible has been incredibly influential across the globe.
Among his countless accomplishments, Cho has also achieved a reputation for being one of the greatest kickers in the world. Even today, at 60, his techniques are utterly impressive and never fail to leave those who watch him breathtaken.
Throughout his incredible career, Cho has always shared his valuable knowledge with all students of the martial arts through books and videos. And now, in this article, he offers the integral points to mastering the martial arts kick. During Cho's abundant years of teaching the martial arts, he has seen virtually every type of error that can be committed. And obviously, you're not going to throw the kicks properly or to their full potential if you're making a fundamental error in the way they are supposed to be executed. Of course, these errors are often disguised by impressive flexibility and acrobatics. However, when properly executed, the greatest power, precision and speed is undeniable.
The Side Kick
STRENGTHS
This is considered the most powerful kick.
This kick uses more muscle groups than any other kick.
The side kick can be used offensively and defensively.
Strength is generated in a straight line from the mid-section. Therefore, the target area should be your opponent's torso.
This can be thrown while moving or stationary.
TIPS
When you thrust your kicking leg forward, use your thigh - not your knee to generate power.
When you throw the kick, twist your waist and hips.
At the point of contact, your heel, hips and shoulder should be in alignment.
COMMON ERRORS
Many people do not draw their leg up far enough to their chest before they kick.
When you chamber for a sidekick, make sure your leg is parallel to the floor not perpendicular.
Do not lean forward. When you throw this kick, you should lean back in a vertical line.
The Axe Kick
STRENGTHS
This does not require a lot of distance to throw it effectively.
It is the most unique, comprehensive fighting kick in Korea.
TIPS
Stepping in with your back leg creates speed and efficiency.
Thrust you hips in and twist your waist 180 degrees when you raise your leg to kick.
Use your thighs to generate maximum power.
Bring your kicking leg straight down in a chopping motion.
COMMON ERRORS
The most common error made when performing the axe kick is improper positioning of the upper body. As the name suggests, the axe kick must reflect the motion of an axe chopping downward in a powerful action. However, many students are prone to move their upper body toward the kick, rather than pushing their hips out and shifting their upper body away from their leg.
Some people just drop their kicking leg. Instead, you must flex your biceps femoris muscle (thigh muscle) and pull your leg down sharply across your target.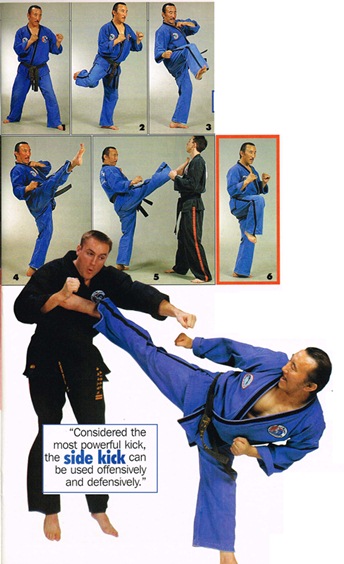 The Front Kick
STRENGTHS
This kick is easy to throw.
It is fast and versatile.
It's used as an attacking technique.
The front snap kick can be thrown a number of ways for a variety of purposes.
Balance is easily placed on the rear leg when you throw this. Therefore, you can easily throw a hand attacking technique afterward.
TIPS
Make sure you snap your knee when you kick.
Shift your balance onto your front leg and lean your upper body backward.
Thrust your kicking leg forward, fully exposing your quadriceps.
COMMON ERRORS
Many students chamber their leg in front of their chest when performing the front snap kick. However, this limits the power of the technique. Instead, the leg must be chambered so that the quadriceps are fully exposed by the leg moving back toward the gluteus muscles, almost in an exaggerated movement. This motion is similar to that of a football kicker who thrusts his leg back and then forward to kick the ball.
It's not uncommon for some to perform this kick like a front rising kick or axe kick. Remember, it's important to snap your leg.
Some strike their target with their toes instead of the ball of their foot.
The Back-Spinning Kick
STRENGTHS
This is one of the most powerful and artistic kicks.
This can open an opponent up as it breaks through his defense.
TIPS
For maximum power, the spinning motion of your body should slightly precede your kicking leg.
Emphasize both arms in the rotation.
Maintain an upright position as much as possible.
Maintain the waist level height of the kicking leg for a full 360-degree motion.
Upon completion of the kick, return to the fighting stance.
COMMON ERRORS
When people throw this kick, they will often step in with their front leg. This is a bad idea because it results in a loss of power. This technique is characterized by its rapid whipping motion. Therefore, you must be aware of when to lift your leg. Many begin to lift their leg midway through the kick. Instead, you must lift your leg as high as possible immediately after you begin to spin.
The Back-Turning Kick
STRENGTHS
This is a great technique for a smaller person to use against a larger opponent.
This lends itself well to be followed by a succession of other kicking or punching techniques.
Tremendous power is generated by the turning and kicking.
TIPS
Without snapping your knee, push your leg out with the quadriceps in your upper leg. Your balancing foot should point sharply on the ball of your foot 180 degrees, so that your heel turns in a direct line toward the target.
Strike the target with the blade of your foot or your heel.
Your upper body should be leaning back about 45 degrees.
At the height of your kick, you should be looking over your shoulder, and your heel, hip and shoulders should all be in alignment.
After executing the technique, you can draw back and throw a side kick or drop your kicking leg in front of you and throw another kick.
COMMON ERRORS
Too often, people separate the different elements of this kick. Instead, they should all be done together (the quick turn, raising the kicking leg and the kick).
Some don't draw their leg up far enough to their chest.
Others keep their kicking leg parallel to the floor.
Poor balance. Maintaining balance is the key to this kick. To throw this effectively, you must avoid balancing on the flat surface of your foot. Instead, you must rapidly shift the balance on the ball of your foot for maximum stabilization. Speed and coordination are essential.
---
About the author: Jasmine Cho, who has been studying taekwondo for more than 12 years, is an eleventh-grade honor student at El Dorado High School in Albuquerque, New Mexico, and the daughter of Hee Il Cho.