The Association

AIMAA was founded in 1980 to serve as a unifying body for all styles of martial arts. Our organization provides a comprehensive training structure in a "no-politics" progressive-manner. Memberships available for individuals & instructors. Join AIMAA » AIMAA Links »
Complete DVD Curriculum

Grandmaster Cho's "Home Study Program" is a fully-packaged system and curriculum for Tae Kwon Do training at home. The DVD program will guide the dedicated student on the path from White Belt to 4th degree Black Belt! More info » View Video Clips »
AIMAA President/Founder

"Grandmaster Hee Il Cho is by far one of the most experienced and knowledgable martial artists of our time...!" --Martial Arts Illustrated
Current News:
NEW RELEASE!
100 page coffee table book
Grandmaster Hee Il Cho:
75 Years of Action
by Grandmaster Hee Il Cho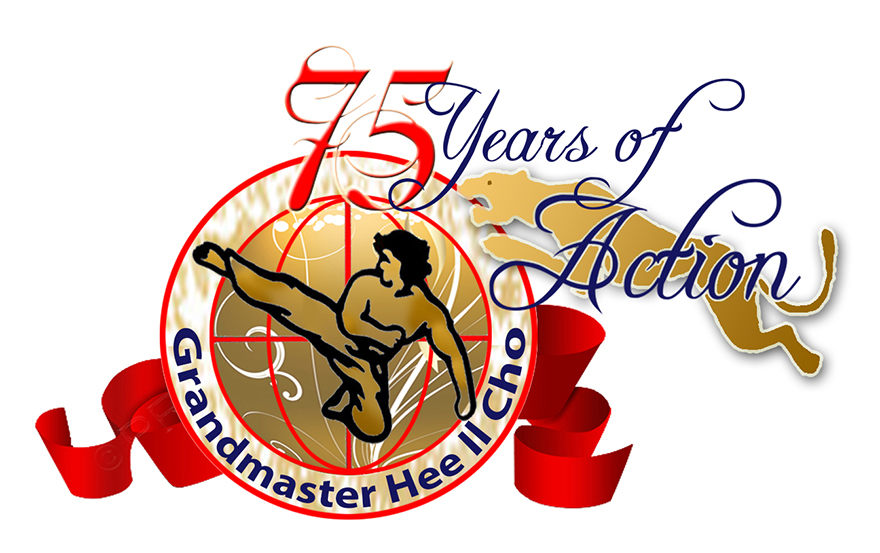 Updated: September 8, 2014
Train-On! Virtual Training Club:
Grandmaster Cho's Online
Virtual Training Club

Now you can learn and train ONLINE with the living legend!

Grandmaster Hee Il Cho now shares his 50 years of intense martial arts experience with you through the internet.
Updated: August 20, 2012
*** NEW! ***
50 NEW DVDs AVAILABLE!
Grandmaster Cho Training DVDs
Website Launch Special Offer!
First Time Available on DVD
View Sample
Video Clips
Watch NOW!
Instructional DVDs of
Grandmaster Hee Il Cho.
Includes:
AIMAA Curriculum One Step Sparring and AIMAA Curriculum Self Defense
Learn more about
50 New DVDs!
Updated: August 24, 2012

What's Happening in AIMAA:
COUNTDOWN TO 75 YEARS!!
A Momentus Occasion is Fast Approaching!

AIMAA members worldwide will extend their congratulations and best wishes to AIMAA President and Founder, Grandmaster Hee Il Cho, as he turns 75 years old on October 13, 2015.

We wish him all the best in health, happiness and prosperity for many many years to come!

Warmest HAPPY BIRTHDAY from the worldwide AIMAA family!


AIMAA Boot Camp 2015
A weekend of exciting and intense training, under the instructional guidance of Grand Master Philip Ameris, Mr. Jacob Cho and Mr. Dom Mazzotta.

The Action International Martial Arts Association, hosted by Grand Master Philip Ameris' Cho's Tae Kwon Do Center, was proud to present the 2015 AIMAA Boot Camp in Pittsburgh, Pennsylvania, on Friday the 12th of June through Sunday, the 14th of June.

Congratulations to all participants!


AIMAA Scotland Seminar
Congratulations to AIMAA Scotland for hosting two successful TKD seminars at Belgacem's School of Cho's Tae Kwon Do.

Sunday, May 3rd, AIMAA Scotland hosted their third, "Lady Dragon Seminar," with Zara L Phythian. AIMAA Scotland had more than 100 students attend the event - divided over two separate exciting seminars, one for children and one for adults.

Congratulations to all of the seminar participants and organizers!


Happy Birthday! 2014
Celebrating Grandmaster Hee Il Cho's 74th Birthday!

How does Grandmaster Hee Il Cho celebrate his 74th birthday?

Unlike anyone else on earth!


75 Years Art Contest
Art Contest for the celebration of 75 Years of Action for Grandmaster Hee Il Cho

Children and Panthers: Design artwork for Grandmaster Cho and submit it by email or mail to AIMAA HQ along with your name, age and AIMAA School/Instructor.

Winners will be selected in each age category and prizes will be awarded. Your artwork will be displayed on our site and may be used in our 75 Years celebration materials! Enter your drawings by July 31, 2015.

Thank you to all of the children who have submitted their lovely artwork so far and to everyone who is helping and participating!


AIMAA Summer Camp 2014
Reporting on the experiences from Orlando!

It was another outstanding Summer Camp with participants from many countries!

Thank you to everyone who helped and participated!


Grandmaster Hee Il Cho: 75 Years of Action
Hard cover coffe table book. Size: 11.5" x 15"

Special Collector's Edition Commemorative Book

Available Now! 100 full-color pages with over 275 photos, beginning with the earliest photo ever taken of Grandmaster Cho, through to the present day. Stories and impressions by the Living Legend.

Written by Grandmaster Hee Il Cho


Train Anywhere, Anytime!
Grandmaster Hee Il Cho's Complete Video Collection

World's Most Comprehensive Collection of Martial Arts Videos Available for Download NOW!

All Platforms: IPad/IPhone/Google Nexus/Computer...

NEW! Grandmaster Hee Il Cho Video Clips
Grandmaster Cho Demonstrates Techniques

Video clips demonstrating techniques including: Jumping Back Spinning Heel Kick, Crescent Kick, Self Defense, One Step Sparring, Workout, Boxing, Breaking ...and More!

--November 11, 2012

Black Belt Magazine: Man of the Year
Grandmaster Hee Il Cho: 2012 Man of the Year

"He built his organization, the Action International Martial Arts Association, in North and South America, as well as Europe. He organized tournaments, taught seminars, and produced 11 books and 70 DVDs. He now administer, either directly or indirectly, an estimated 4,000 students around the world."

"At age 71, Hee Il Cho is still going strong, teaching class six days a week in his Honolulu dojang. It's proof positive that he's dedicated his life to taekwondo—and precisely why Black Belt has named him its 2012 Man of the Year."


--Black Belt Magazine, August Issue, 2012

Tae Kwon Do Classes: Grandmaster Hee Il Cho's School in Honolulu, Hawaii
AIMAA International Headquarters: Classes Taught by Grandmaster Hee Il Cho

We are located in the Koko Marina Shopping Center, our 8,000 sf center features two large padded mirrored training areas, a weight room, women's and men's dressing rooms, pro shop and offices. Tae Kwon Do is for all ages!

Introductory SPECIAL:
One month of classes with uniform for $99

FREE Class Trial

7192 Kalanianaole Hwy., Suite C-200
Honolulu, Hawaii 96825 USA
Tel. (808) 396-8900

AIMAA Masters
Leaders of the AIMAA Worldwide Organization



AIMAA Links
Stay informed with global AIMAA


AIMAA Websites from Around the World.

Grandmaster Hee Il Cho's 70th Birthday
70th Year Celebration Event!
> > > CLICK HERE TO VIEW VIDEO

WATCH Grandmaster Hee Il Cho Featured on YOUTUBE!
> > > Click Here to View






AIMAA Opportunities for Instructors and Students Around the World:
Exciting opportunities to join AIMAA!

AIMAA, is the leading and most innovative martial arts organization today.

Complete belt curriculum
Ready made business forms
Association certificates, uniform patches, Student Handbook and instructional DVDs
Join the A-C-T-I-O-N!

Join the A-C-T-I-O-N!
**Click here to learn more about AIMAA memberships
Contact AIMAA HQ Koko Marina Shopping Center
7192 Kalanianaole Hwy., Suite C-200
Honolulu, Hawaii 96825 USA
Tel. (808) 396-8900